[av_textblock size=" font_color=" color="]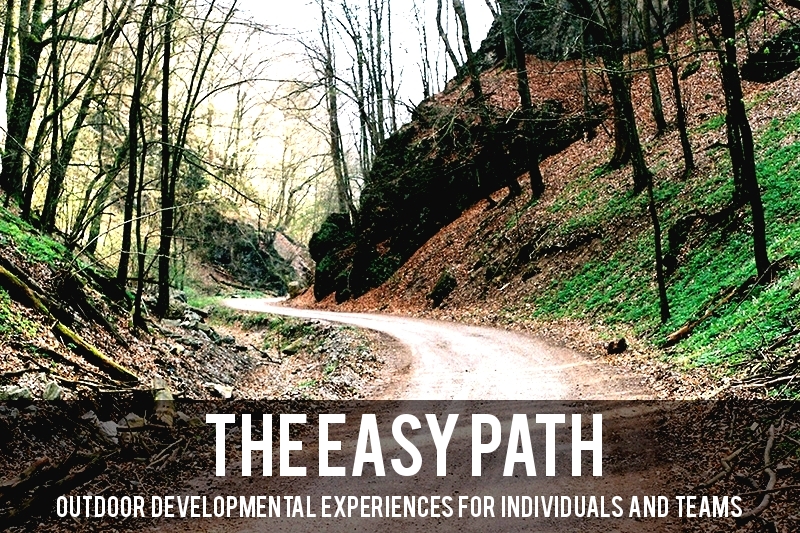 The Easy Path ™ experiences offer participants a unique and innovative opportunity to  get 'off the grid' and connect with nature as a means to work through real-world challenges. All while discovering an easier path to greater success in life and work. The format combines period of walking with tools and techniques designed to support participants in unraveling their specific reality to create intention for moving forward with more clarity and success.
Led by experienced facilitators who are also certified professional coaches, there is a standard model that can be customized for teams with specific challenges.  These outings are typically 3-5 hours in length, and rated as 'easy' hikes with an average level of physical fitness or better ideal for maximizing the experience.
Check out each of the tabs below for more information including team event details and testimonials!
See you on the path!
[/av_textblock]
[av_tab_container position='top_tab' boxed='border_tabs' initial='1′]
[av_tab title='Public Workshops!' icon_select='yes' icon='ue866′ font='entypo-fontello']
Public offerings are BACK! 
Easy Path 1:  Getting Grounded Experience.  3.5 hours
Easy Path 1 is the first step of a journey into mindful, fulfilling and sustainable performance.
Spending an afternoon in nature, participants learn the fundamentals of mindfulness and it's impact on goal attainment.   Being present with and learning to observe the thinker inherent in each of us, you'll begin to develop a better understanding and processing of  'brain noise' judgement free. You'll also experience the power of being in nature, accessing parts of the brain that allow for more creative problem solving.  Through a series of exercises and prompts, you'll work through your most pressing stressors and learn methods to choose The Easy Path in service of a more effective and liberated way forward.
UPCOMING DATES: 
Easy Path 2: Trusting Your Inner Compass
In Easy Path 2 (EP2) participants will go beyond the grounding experience of EP1, taking a deeper dive to uncover your innermost desires that lead to fulfillment, joy and success on your terms. Again accessing the power of mindfulness and nature, combined with the learnings from EP1, you'll access your inner compass and tap into your personal values and current calling. We will explore what it means to trust, act in alignment, and remain connected to these guideposts to support better decision making and outcomes. You'll leave with a clearer path to ease on your terms!
Easy Path III Exploring and Navigating Terrain with Others
None scheduled at this time.  Check back for dates!
[/av_tab]
[av_tab title='Testmonials' icon_select='yes' icon='ue806′ font='entypo-fontello']
"The depth defies description.  No one would believe up front how transformational it will be".  – Operations Leader
"Enlightening, energizing and insightful."  –  IT Director
"The environment was beautiful and  I appreciated the guidance of the leaders who asked thoughtful and challenging questions."   – Non Profit Manager
"Thank you SO MUCH for this opportunity to join you today. I really felt the letting go process did hit me in the heart. <3"   — Small Business Owner
"Relating the hike to our work environment showed how quickly things can go off path and how to work through it. "  — Operations Leader and organizational team participant.
David Evans Video: 


[/av_tab]
[av_tab title='Challenges Addressed ' icon_select='yes' icon='ue8b4′ font='entypo-fontello']
Recent studies show that 70% of us are stressed at work and the same number disengaged. The Easy Path offers a unique approach to addressing common challenges such as: 
High stress and burnout, never slowing down.
Challenging communication and/or relationship conflicts.
Self doubt and limiting beliefs.
Isolation and disconnection, typical in today's fast paced digital environments.
Uncertainty about the future, difficulty making a key decision or decisions in general, a sense of being 'stuck' or not in control.
[/av_tab]
[av_tab title='Benefits' icon_select='yes' icon='ue82b' font='entypo-fontello']
Typical Outcomes:
Heightened awareness and accountability to outcomes
Understanding of perspectives and being at choice
Full processing of current status / capacity to reflect on desires
Ability to observe inner voice messaging and delineate between useful and limiting patterns.
Greater sense of purpose and connection.
Increased confidence with less ego.
Empowered 'go forward' intention and new way of showing up.
Appreciation for what is and letting go of what's not serving or is outside our control.
A renewed focus and clarity around the future.
A repeatable process to support future challenges.
Better emotional and social intelligence.
More creativity and innovative thinking.
[/av_tab]
[av_tab title='Team Applications' icon_select='yes' icon='ue80b' font='entypo-fontello']
Team Offerings:  The nature of The Easy Path allows for many team applications. 
Team building event, as a stand alone or incorporated as part of an offsite.
Pre or Post leadership development program, to enable a strong start and ALL IN perspective, or  to fully integrate the learnings post event.
Pre  or Post Strategic Planning Session – pre-event clearing or post event go forward readiness.
In combination with an assessment – eg, 360, MBTI, DISC, employee survey. The program will enable participants to process the feedback, identify what's distracting about it and let go of it, stepping into the learnings more objectively.
Teams in transition – processing the changes to move forward with more clarity.
Project Teams – pre or post project lifecycle.
Recommended for: 
In tact functional and start up teams.
Project teams.
Cross functional leaders seeking a more collaborative environment.
HR teams looking for new ways to support internal stakeholders.
Teams seeking innovating ways of approaching old problems / breakthroughs.
Interested in a team offering?  Contact us at 510.859.7579 or mindfulwork@pureambitionconsulting.com.  We also encourage you to participate in a public event to experience our work first hand. And, we'll credit your individual rate(s) (up to 3) toward the team event!  We would LOVE to support you and your team with this transformational work!
[/av_tab]
[av_tab title='Why Nature? ' icon_select='yes' icon='ue8b8′ font='entypo-fontello']
Why nature?  Research shows that when we are in nature we immediately benefit! Benefits include stress reduction, a sense of coherence and belonging, improved self-confidence and self-discipline, and a broader sense of community.
Check out this June 2015 study conducted at Stanford that concludes walks in nature boost brain power and mood!
Combine the impact of nature with a facilitated exploration of the self and the result is typically a transformational experience, enabling participants to immediately move forward more effectively.
"I only went out for a walk then decided to stay out until sundown. For going out I found was really going in."  John Muir
[/av_tab]
[av_tab title='FAQ's' icon_select='yes' icon='ue81d' font='entypo-fontello']
What will we actually be doing?   Our outdoor workshops can be hard to describe! Over the course of our time together we'll be walking in silence, walking and discussing key program elements in pairs and/or groups, journalling and having break out and group discussions.  While we do have a standard format, a key element of the program is being in the moment and thus we don't provide a full program outline intentionally. Team programs for organizations are customized and we will partner with your leadership on the specific program components while we recommend the team participants have the same level of mystery we maintain for the public program.
What do I need to bring? You will receive these specifics at least 3 days prior to your event date. Typically all you need to bring is a small back or fanny pack to carry any personal belongings or favorite snacks as well as a refillable water bottle.  We provide snacks and water, journals, pens and any other necessary supplies.
What should I  wear? You will receive these specifics at least 3 days prior to your event date which will include a weather update.  This tends to be venue specific.  Typically we recommend comfortable hiking clothes in layers and hiking shoes or good sneakers.
Do I need to be in good physical shape?  We intentionally seek out venues and routes that are rated "easy" and with elevation gains within 500 feet and less than 1 mile per hour distance on average.  An average level of physical fitness is recommended to allow you to get the most out of the experience.  Each event page lists the  total mileage and elevation for that specific event.
What is your cancellation and refund policy?
All tickets are transferable to another person via email to mindfulwork@pureambitionconsulting.com. Please email your transfer requests at least 24 hours prior to the event date when possible.
Cancellations requested more than 10 days prior to the event will be refunded the registration price paid less a 10% administration fee.  Send your cancellation request to mindfulwork@pureambitionconsulting.com.
Unfortunately we are unable to accommodate cancellation refunds inside 10 days of the event date.  You may transfer your ticket at no cost.  Or,  Pure Ambition will accommodate your participation in  a future event to the extent possible and at the company's discretion (e.g., depending on space availability).  We cannot guarantee timing nor location.   To request transfer to a future event email mindfulwork@pureambitionconsulting.com at least 24 hours prior to the scheduled event date.
Pure Ambition may decide to cancel an event based on extenuating circumstances (e.g., weather, illness). In these cases a full 100% refund will be provided within 24 hours of the decision via the same method the registration fee was received.
Team events carry a customized solution and pricing.  Your signed proposal and contract will include cancellation policy details.
Have other questions or suggestions?  email us at mindfulwork@pureambitionconsulting.com and we'll get back to you and update this page accordingly!
[/av_tab]
[/av_tab_container]